Alimony (Spousal Support)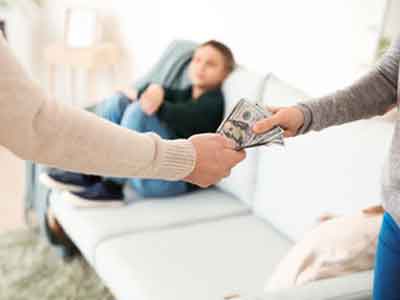 The Law Firm of Meléndez & Bonilla ensures that your rights are protected in a separation case where you have to pay alimony or spousal support. The Costa Rica Family Law is complicated and favors the women. The Catholic society in the country does not easily accept divorce. Alimony or spousal support is to be given once divorce is granted. The Costa Rica Family Law views individuals entering into marriage as legally obligated to support their partner – at least financially – till death.
Therefore, a former spouse has to pay an amount of money as decreed by the court which grants the divorce. The Costa Rica Family Law uses the due-process clause to respect judgments of a state court in the United States. Therefore, alimony would still have to be paid to a former spouse who is a Costa Rica native or moves to the country.
A legal precedent also entails that the Costa Rica Government would help the United States in locating a person who is required to pay alimony. This might even require Costa Rica law enforcement and/or extradition to the US or Costa Rica. Costa Rica or American nationals cannot escape paying alimony if they move out of the country. It would only further complicate their legal status. Alimony cases get even more tricky in Costa Rica because prostitution is legal, and cases of fraud relating to marriage are not uncommon.
The alimony is paid to the woman upon divorce as she is traditionally viewed as having less ability to support her children and herself financially. Costa Rica Family Law is extremely strict when it comes to awarding alimony and divorce. In fact, divorce proceedings cannot be initiated before three years of marriage are completed. After the divorce, if the former husband wishes to leave Costa Rica, he must make an advance payment of at least 13 months' of support or ensure that all support payments have been cleared.
Contacting an expert lawyer is the best way to handle a divorce case in Costa Rica so that your rights are protected. Most couples getting married in Costa Rica ensure that they have a pre-nuptial agreement In place so that harassment is avoided in case of a separation.
The Costa Rica Family Law has several gray areas. Alimony payments depend upon several factors including the involvement of children. A foreign national married to a Costa Rica woman cannot escape the responsibility of paying child support by denying that he is the father of a child. The Costa Rica Government pays for a DNA test if a woman demands it.
The Law Firm of Meléndez & Bonilla has decades of experience in handling complicated Family Law cases. Our experts also understand the emotional trauma, stress, and need for privacy in such cases. We focus on a legal strategy to ensure that the rights of our clients are protected and the litigation process ends quickly. We represent you with your best interests in mind even during your absence from the country. Your power of attorney is handled with care.
Call the Law Firm of Meléndez & Bonilla today for expert and trustworthy legal help in handling your alimony case.